 TodoMovies
TodoMovies is the easiest and best way to manage movies you want to watch. With movie discovery, release notifications, bonus scenes indicators, photo galleries, iCloud sync, and much more you will never miss a great movie ever again!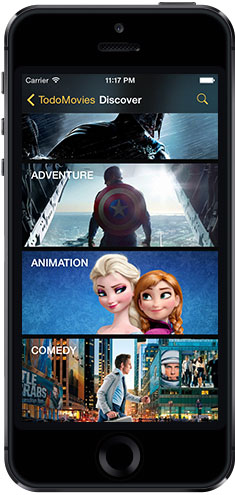 Watchlists
The To Watch list is the heart of TodoMovies. It is where you keep a list of movies you want to watch. TodoMovies doesn't require any account or phony signup processes, so you can start adding movies the second you open the app.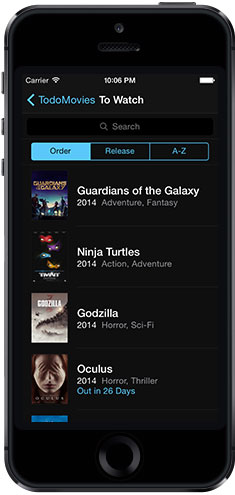 Movie Discovery
Browse movies by upcoming, in theaters, or browse through every movie ever released by genre. TodoMovies will also regularly recommend you a great movie from each genre. Use the super-fast search if you are looking for a specific movie.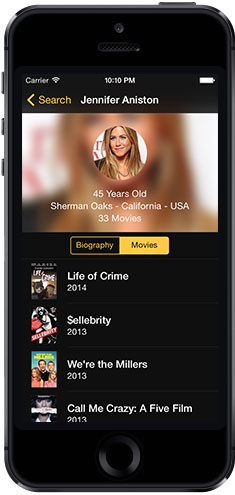 Release Notifications
When you add an unreleased movie to your To Watch list, TodoMovies can notify you when it is released in theaters. You can select a time, day, and even add a personal note to the notification. For example, for ordering tickets or calling a friend.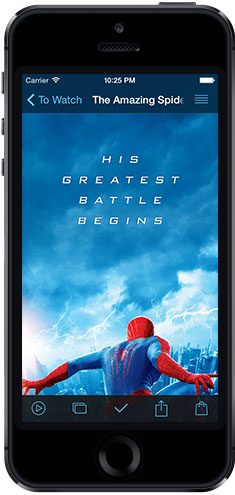 iCloud Sync
Starting with version 2.0, TodoMovies supports iCloud backup and sync. This means your watchlists are kept in sync across all your iOS devices. If you accidently deleted TodoMovies, all your movies are still safe. iCloud sync can be enabled from the settings in TodoMovies.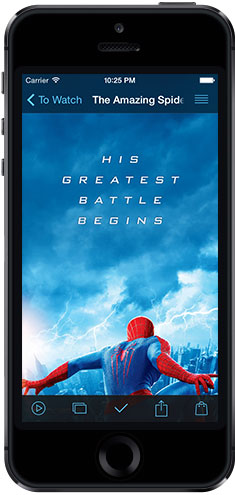 TodoMovies Score
Forget about meaningless numbers, reading countless conflicting critics and fans reviews. The all-new TodoMovies rating system computes a universal rating for every movie. The TodoMovies Score will tell you if a movie is excellent or not. Rotten Tomatoes and Netflix ratings are also one swipe away.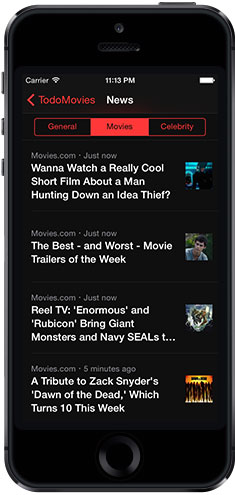 Photo Gallery
Browse movie photos and amazing fan-made art with style. Tap on a photo to view it in fullscreen, landscape or portrait. The high resolution photos look stunning on the retina display! Right from TodoMovies, photos can be even uploaded to your Dropbox to use as a desktop wallpaper for your Mac or PC.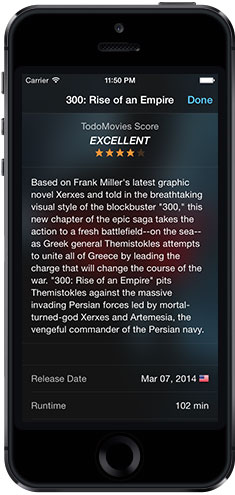 iTunes Integration
Thinking of downloading the soundtrack of a movie in your Watchlist? Or even the movie itself? With a single tap, TodoMovies will search the entire iTunes Store and present you with all available downloads related to a specific-movie. This includes games, movies, soundtracks, and even iBooks!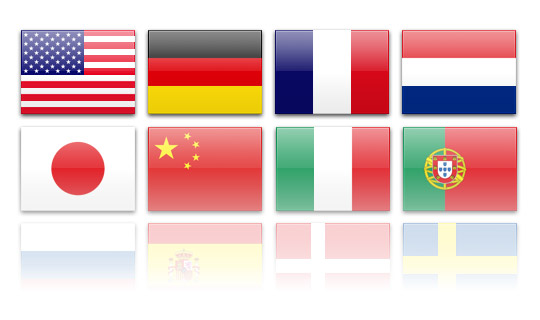 Truly International
Just like art, movies are universal. The team behind TodoMovies went to various lengths to make TodoMovies available in as many languages as possible. Fully-localized in 15 languages and location-aware, TodoMovies supports international movie details and release dates.
In The Press
"TodoMovies is a rare app that's gone from providing a useful and simple service, to expanding on that idea with great success."

Jesse Virgil,
appstorm.net

"After using TodoMovies, I am thoroughly impressed. Not many dev teams are able to adequately combine beauty and useful function."

Jim Gresham,
iDownloadBlog.com